How to Order online ?
Ordering Custom Jet Tags Online
In the past, if you needed custom jet tags, you had to go to a local embroidery shop. Today, ordering these goodies online is fast, easy and very convenient.
Why order online rather than go through a local provider? The answer is simple: price, quality and service.
Price, Quality & Service
Typically, a local embroidered keychain supplier is a small business. This limits its ability to compete in price with companies selling larger volumes on the Internet. Financial constraints also prevent small local stores from having the latest state-of-the-art embroidery equipment. Older equipment does not have the same computer-assisted control that makes the production of custom tags consistent and reliable. Less efficient equipment can also increase production time and thus lengthen delivery times.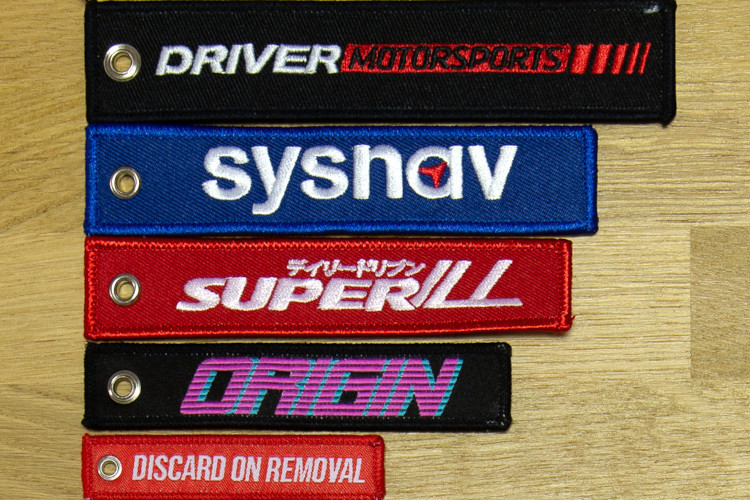 At Remove-Before-Flight.com, as we work on large volumes, we can afford to offer more competitive prices on our products. Every keychain we make is made with the latest and most modern embroidery material available. This allows fast production and consistent quality.
Ordering custom keychains online does not mean sacrificing quality or service. At Remove-Before-Flight.com, we inspect each keychain before bagging it and sending it to you.
Quote Form
Ordering online on our website is fast and easy thanks to our free quote form. Simply fill it out and send it to us: we will answer you within 24-48h with a quotation and a digital proof. Once you have received our proposal, you have the option to request graphic revisions until you approve the final design. Once you have agreed, we'll start processing your order which, once completed, will be delivered to you as soon as possible!
Online Tool
Want to design and order yourself, directly online ? Easy : go on our Design It Tool page and start creating your own Flight Tag ! Once you're done, add to cart and select the quantity. Finally you can order and pay online either by Credit Card, Paypal or Wire Transfer.
In Fact, ordering custom keychains online is as easy as ordering any other product online. The important point is to find a reliable supplier you can count on. At Remove-Before-Flight.com, we have more than 5 years of experience in the business of making the best custom embroidered keychains you can buy. We regularly work with the largest brands as well as military air and naval units spread around the world.
We're proud to offer our customers the lowest possible prices and excellent manufacturing quality. Make the right choice by trusting your provider Remove-Before-flight.Com!