!-**** Suppression du nom de la boutique dans la balise TITLE ************-->
Free Artwork

100% Customizable
RUSH Order
Worlwide Shipping
Sizing
The Red aeronautical flame used in aviation in the form of a cloth strip and placed for the control of sensitive points of the aircraft, provides excellent exposure for your brand as a promotionnel gift item (Goodies).
There are 4 different sizes mainly used for this type of keychain
100x20mm (3.94 x 0.79 inches)
120x25mm (4.72 x 0.98 inches)
130x30mm (5.12 x 1.18 inches)
140x30mm (5.51 x 1.18 inches)
We can also produce keychains with a custom size, do not hesitate to contact us to submit a request of this type.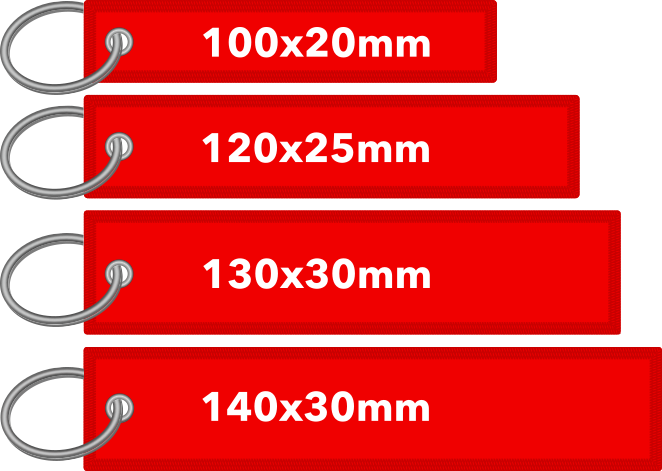 Fastening system
Some remove before flight keychains have a reinforced clip that can replace the traditional ring-shaped clip. For the reinforced fastener, there is an additional manufacturing cost of + $0.15 per keychain compared to the conventional fastener.
Shape and cut
In most cases, the flames are rectangular in shape, with a crimped eyelet and a metal ring that is used to insert the keys of every day.
However it is possible to make models with a custom shape and a cut to measure: rounded corners, arrow, triangular shape etc etc ...

Colors
Whether on the front or back side, the remove before flight can contain logos and / or text, the choice of colors is free and it's also possible to choose fluorescent, silver or gold colored threads.